A long-time dream comes true for Tim and Tom Coronel
"This will be the toughest Dakar Rally on South-American soil," the organisers had warned prior to the 2017 running of the event. The warning turned out to be more than justified. Especially when taking on the challenge driving solo in a self-built buggy, like Tim and Tom
Coronel.
Participants in the world's largest motorsport endurance event were faced with the hardest conditions imaginable during the past fortnight: from temperatures of over 40 degrees in the blistering sun at sea level to hailstorms and icy rain at an altitude of 5,000 metres, from bone-dry desert areas to stages that had to be cancelled due to mud and landslides. This was a Dakar rally at its best. And all in the solo classification in the case of Tim and Tom Coronel.
In the past time, the brothers had to deal with many situations. One time, the self-built buggy ran like clockwork, but on other occasions, Tom got stuck in the proverbial middle of nowhere, not knowing what to do. He got more than his fair share of bad luck and once again, he had to spend a few nights on the stage, at very low temperatures and in pouring rain. Super mechanic Tim regularly was at hand to help him, just like the Boucou fast assistance truck that towed Tom's car for many kilometres.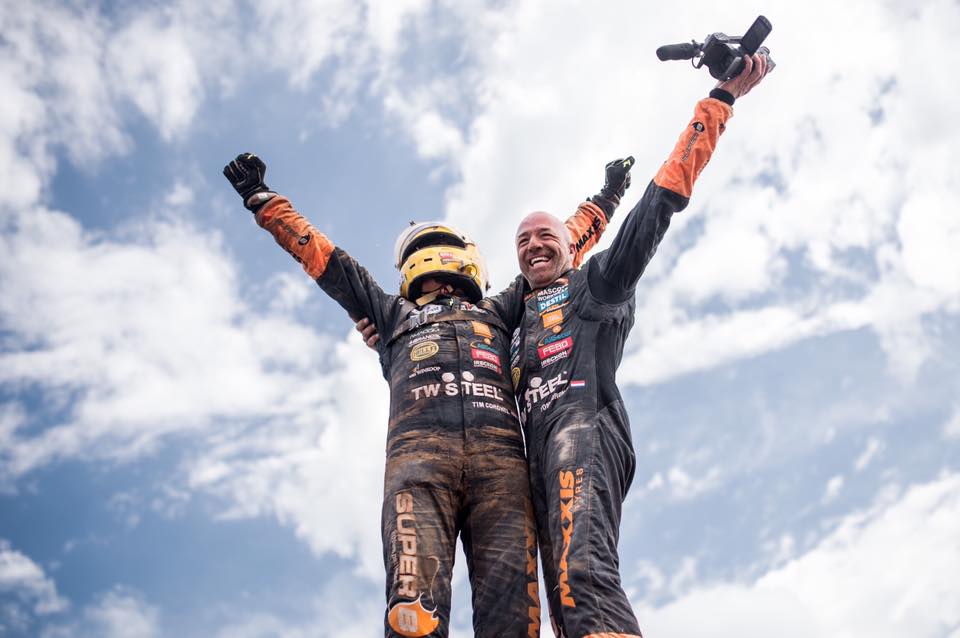 There was one thing that got him through: the wish to make it to the finish of the Dakar rally together with his brother Tim. In 2015, the Coronels took the start for the first time, each of them with a buggy. That year, Tim failed to make it to the finish. They made another attempt in the following year, but then it was Tom who retired early. It was to happen in 2017, and so it did!
After almost a fortnight of hardship, the final stage of over 60 kilometres was successfully completed on Saturday. After that, there was a road section of about 700 kilometres to make it to the centre of Buenos Aires. There, the brothers got to drive on the podium for the warm welcome by the enthusiastic fans. Things got tense on the final stage once more. Tim explained: "There turned out to be a problem with the clutch on Tom's car prior to the stage. As a result, we started half an hour to 45 minutes late, so we had to catch up again. That was a little bit too exciting for my liking, but fortunately, we made it. We did it, we made it to the finish. Fantastic to be able to stand on the podium together with my brother!"
Tom on the podium with a lump in his throat
Tom had a lump in his throat as he stood on the podium and was cheered by the huge crowd. It was only then that he realised what he had been through in the past days. Exhausted, but satisfied, he said: "Mission accomplished. Been there, done that. This was our goal, to get two buggies to the finish. We managed to do that, also thanks to the excellent preparation by Tim. During the rally, he was my fast assistance, he drove behind me all the time. I had quite a few problems I am sure I would never have been able to solve them myself, or at least not this fast."
"All in all, it was a really tough one. For me, it was harder than two years ago when we made the documentary. On two occasions, I was about to call it a day. It was Tim who pulled me through. 'Come on, don't be so negative, just keep on going,' he said all the time. You get to
the point where you are really, really tired. You only get one hour of sleep per night, so you fall asleep behind the wheel. Conditions were anything but ideal, but we got so many stories to tell in years to come, moments in which others would have stopped long before already. I really went further than in the previous two years, but the joy is all the bigger for it. I couldn't have dreamt about this four days ago. Thanks Tim, thanks to the team, thanks to the sponsors. Had it not been for you, I wouldn't have made it."