Tom Coronel was forced to spend the night from Friday to Saturday on the stage. His brother Tim did make it to the bivouac in time, only to find it closed due to the adverse conditions.
It was a tough Dakar day. Tom came to a halt a little over 30 kilometres into the stage. Like two days ago, there with issues with the clutch. Once again, the Boucou recovery service was called for assistance. Fortunately, the second part of the stage was cancelled due to bad weather conditions. On the second part, the cars were to cover a different route than the trucks. With Tom getting a tow, that meant he would have missed several waypoints, with all the usual consequences. Now, the buggy could be transported straight to the bivouac.
At least, that was the plan, but conditions prevented this. The weather changed and there was a downpour that turned the route into an incredibly muddy affair. Many competitors got stuck. Tom and the Boucou rapid intervention truck helped Tom van Genugten and Wuf van Ginkel, among others, to get going again. Due to the terrible conditions, both on the stage and in the bivouac, the organisation decided to close the bivouac. Tim did find his way to the camp, but found out that he wasn't allowed to get in, although conditions were hardly any better inside. Moreover, he had to wait for a long time for the service truck to arrive as that also had difficulties to complete the stage. As a result, the team was only able to start work on Tim's buggy at a very late stage. Tom realised that it would be impossible to continue, so he decided to spend the night on the stage in order to be able to continue at daylight.
After many hours of negotiations, the organisers decided to cancel Saturday's stage due to the conditions. Later during the day, the competitors will form a convoy to head to La Paz, the capital of Bolivia. On Sunday, a rest day was planned anyway, so the Maxxis team members have two days to solve the clutch problems on Tom's car.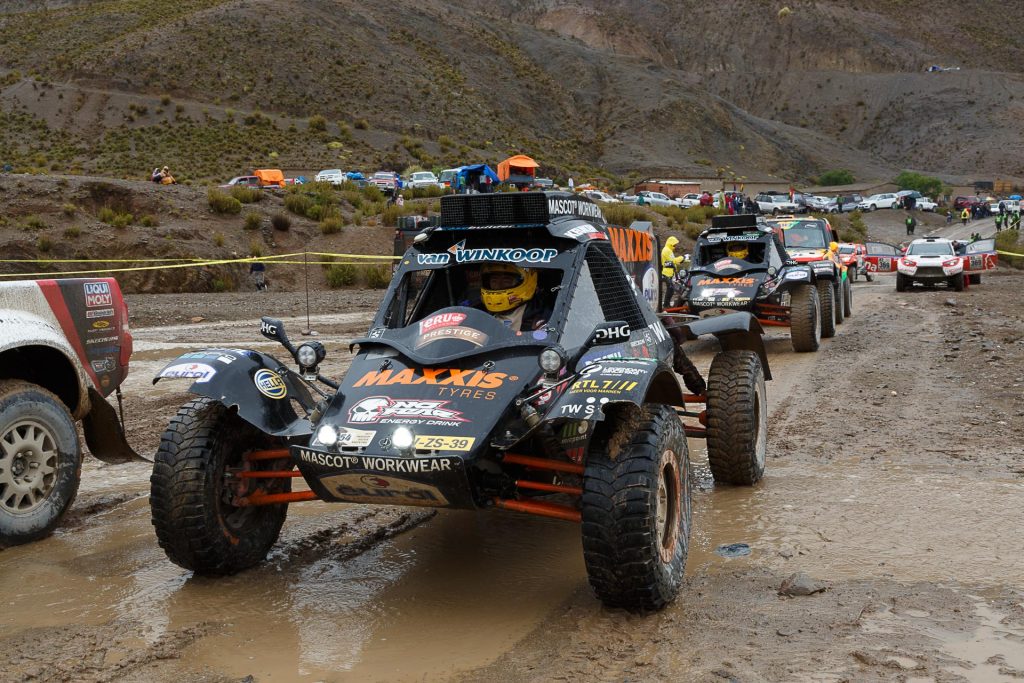 Success for Kees Koolen
Next to the Coronel brothers, Kees Koolen is another member of the Coronel Dakar Team. He is taking part in the endurance event in South-America with a quad he built himself. Two years ago, Koolen became the first-ever competitor to make it to the finish in all four categories. On the fifth stage, he scored his first-ever stage win. Reason for the team to throw a small party.