"There was no end to it, we just kept rolling. Four, five, six times? I do not know." A heap of sand about 5 kilometres from the finish of the seventh stage launched the Century with Tim and Tom Coronel on board. The car eventually landed on three wheels, missing a wheel and half of the bodywork, but both occupants are okay.
"The Dakar is the Dakar: unrelenting", Tim concluded. "It was just a small sand bump. We had a speed of about 160, 170 kilometres and were launched." The damage to the car was significant. The various parts were scattered everywhere. The entire left front of the car had broken. After scraping everything together again, assessing the damage and recovering from the initial shock, they decided to see if and how they could reach the finish line. Repairing on site was impossible, the finish line not far away. They succeeded on three wheels and at the finish they were able to hook up with Pascal de Baar's truck, who towed them to the service park, 94 kilometers away.
There the team had already prepared everything to carry out the necessary repairs. There was more work than could be done in the limited time of two hours, but the car left for the marathon bivouac on four wheels. The brothers were punished with a hefty time penalty, but most important was that they were alive and well and still in the race.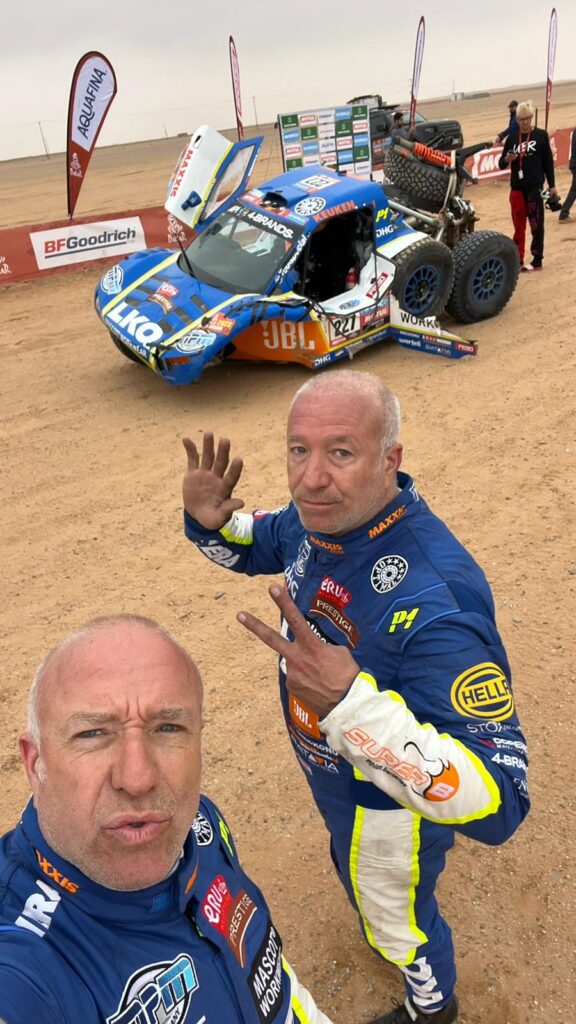 "In itself it was a nice stage", said Tom. "It also went well, we drove a nice pace. Actually everything was smooth, until we had a bit of bad luck 5 kilometres before the finish. Unbelieveable. Really unbelieveable."