Jujuy, January 6th 2016 – "Sorry guys, I can't fix it anymore!" That's what Tom said just after starting the 4th special stage. The problem with his buggy still weren't solved and he had to give up. Four days long Tom was fighting with the buggy. A problem with the fuel pump in his Maxxis Dakar Buggy couldn't be solved and caused a lot of delay. With the marathon stage ahead Tom could only give up.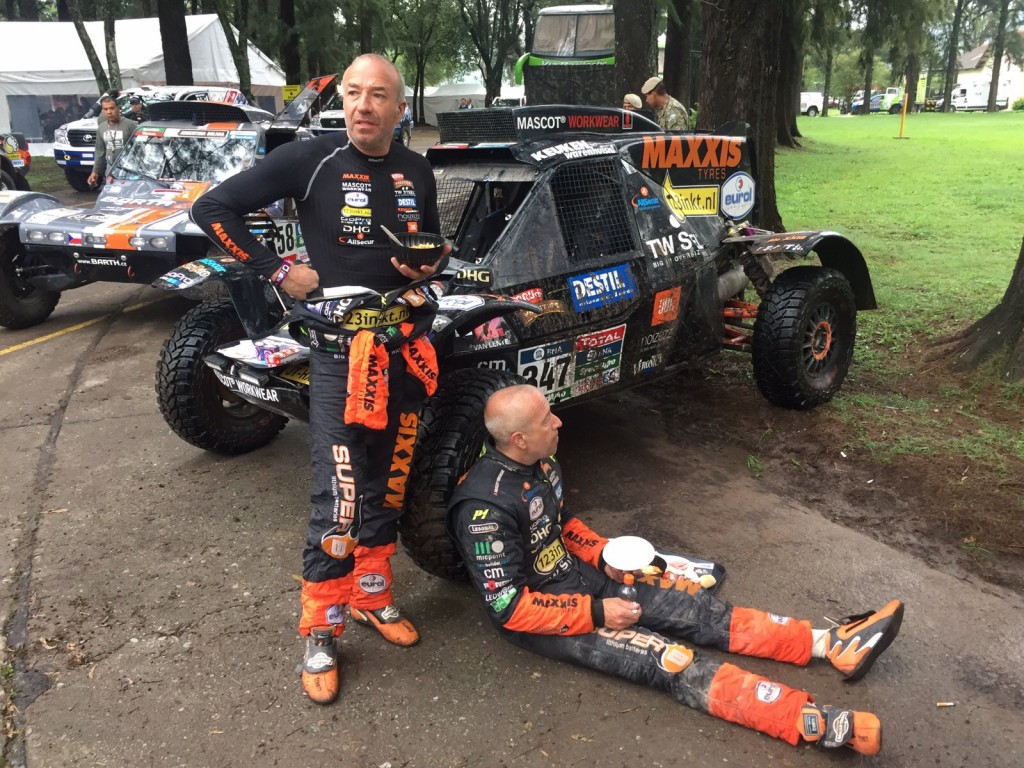 Stage 4 was the first part of the marathon stage. The guys had to race for 429 kilometers and then return to the bivouac where they left in the morning. There's one difference though – the mechanics and the rest of the team are already on their way to the next bivouac. When the teams arrive in the bivouac, the vehicles are locked in the parc ferme and no one is allowed to work on them. The bivouac has to be reached without assistance and the same applies for leaving the bivouac. For Tom Coronel this was not feasible: "The team worked hard to solve the problems with the buggy, but it didn't help. I have to work on the buggy every other kilometer to get it running again and tonight in the bivouac we're not allowed to do that. We also can't have a tow, so if I strand somewhere I have no chance", a disappointed Tom says. Tom started the stage but after 25 kilometer he was done. The buggy quit and Tom had to give up. "I'm very disappointed, but this is Dakar."

100th stage for Tim Coronel
There is good news as well: the problems Tim had at the first stages seem to be solved! After a strong 3rd stage Tim reached the finish without problems today as well. Coronel drove very good and reached the finish ad 64th and 4th Dutchman. A great result on a special day. Tim drove his 100th Dakar stage and that is quite a milestone. After the finish Tim could work on his roadbook at ease because he wasn't allowed to work on the buggy. Special stage 5 is the second part of the marathon stage. Everyone will go from Jujuy to Uyuni – a 642 kilometer drive, of which 327 kilometers are part of the special.
Translation: Denise Slotman