Belen, January 12th 2016 – During the ninth stage from Belen to Belen Tim Coronel has put down a great performance with his Maxxis Dakar Buggy. While a lot of teams had problems with the stage and the heat, Tim kept his cool and drove to a very strong 17th place, 44 minutes behind Carlos Sainz. The 17th place in the cars class is the highest ever with the buggy.
Tim keeps his cool
The 9th stage had a messy start. Because of the heat the race directors decided to cancel the last 100 kilometres, but that didn't make it any easier. The first part of the stage was full of sharp rocks that could easily cause a flat tyre, but the Maxxis tyres were great as always. While almost everyone overheated, Tim kept his cool. He tells us how: "The bikers had to wear a cooling vest and I thought I'm gonna do that to. That worked perfect, because I had no problems with the heat. It helps a lot if you can keep your focus on the track without thinking of the heat."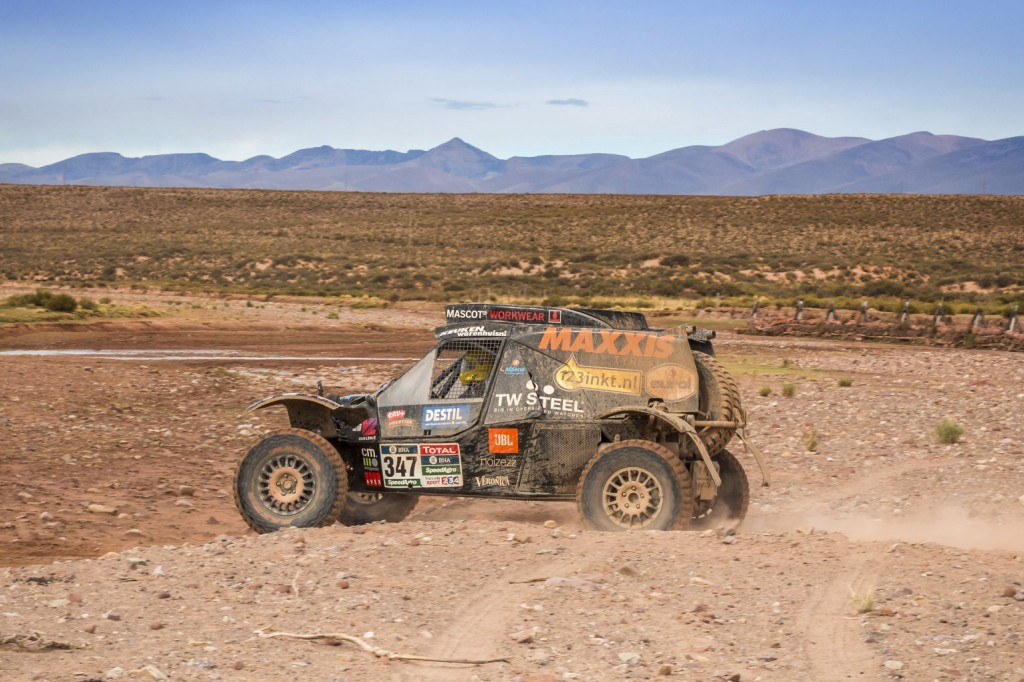 "I took an entire forest with me"
On the first waypoint it was clear that Tim was going fast, because he passed it as 29th.  In the dunes Coronel seized his chance, but it wasn't easy. "It was a heavy stage that had everything. We went from stones to fesh fesh and from muddy riverbeds to the dunes, but all without problems. I was stuck for a moment at the start, but Pascal de Baar helped me to get out of the fesh fesh with his Mammoet truck. I could continue my way and tried to avoid the fesh fesh as much as possible. The downside of that is that I took an entire forest with me in my buggy", Coronel laughs.
Even the dunes were tough for Tim: "The dunes were really soft and tricky today and I see why a lot of cars had problems there. The Maxxis Dakar Buggy is very light and in combination with my tyres it was really enjoyable to drive through the dunes. I could see that in the results. I had to pinch myself when I heard I finished as 17th, I didn't expect that! I'm happy that I finally could show the buggy's potential and this makes up for the first couple of days."