PISCO – Tim and Tom Coronel enjoyed a good start of the 2019 Dakar Rally. They completed the first leg without any serious issues. After the special stage of 84 kilometres, the duo climbed out of 'The Beast 2.0' with a huge smile.
No matter how good preparations are, it is always a thrilling moment when the Dakar starts in earnest. It is only in race conditions when it really becomes clear how the car handles and whether problems occur right away. One year ago, the first leg was anything but trouble-free, but in 2019, things are sorted out considerably better. That caused joy at the finish.
"So here we are!", an enthusiastic Tom said at the finish. "It went really well. In the opening stage, we made a slight error ourselves but I reckon that we have done really well. We overtook some other cars, so there was nothing wrong with the speed." Tim was delighted that the months of preparation paid off: "The car did very well, especially compared to last year. Back then, we had major problems with the temperature management, so we really kept an eye on that this time. Fortunately, that all went well, we now simply have it under control."
Although the stage length was short, it was anything but easy. "A few times, it was really tricky," Tom confirmed. "But Tim drove superbly, he loves the huge sand dunes. We made a few jumps here and there but that is simply part of the game. Now, the Dakar Rally really has started for us, but here we are, both with a big smile."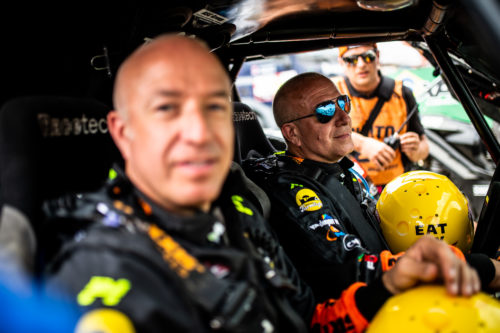 On Tuesday, the first really serious leg is scheduled. Participants drive a lot in the dunes from Pisco to San Juan de Marcona. The total distance is 895 kilometres including 342 kilometres of special stage. It is one of the longest stages of the 2019 rally, so the brothers will be seriously tested.