UYUNI – The first part of the marathon stage of the 2018 Dakar Rally went without too many problems for the Coronel brothers. The demanding two-day stage, split by a bivouac without assistance, was held on the plateaus of Bolivia. After the scorching heat in the desert during the first week, it was now windy, cold and above all very wet. That resulted into difficult conditions. Many competitors only made it to the bivouac in the middle of the night, and some of them not at all, but Tim and Tom entered the bivouac around 8.30 pm.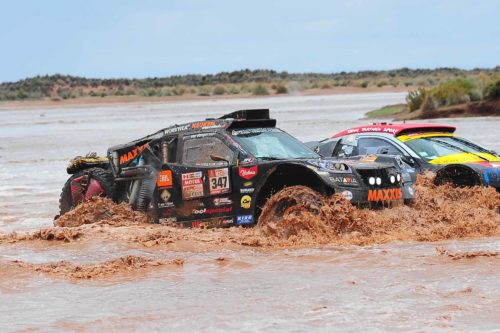 "During the first hours, we had some problems with the alternator and a broken wheel bearing. With help from some locals, we replaced that. It remains fascinating to see how enthusiastic and helpful the people along the road are," Tim looked back. "Unfortunately, these issues caused some delay. The rain made it even more demanding and many competitors got stuck. We helped a Spanish lady who was stuck in the mud up to the axles, but we were unable to pull her out. Fortunately, a truck arrived soon that was able to get her out of the mud. All in all, we lost another 20 minutes there. Later on, we briefly got stuck ourselves, but the assistance quickly pulled us out again."
Tom added: "We spent the final 90 minutes of the stage driving in the dark, but I think that went very well. Tim did the driving, I did the navigating. Tim was in push mode and we made some good progress. That allowed us to make it into the bivouac nicely in time. There, we had to do the service on the car by ourselves. Tim took care of the technical side, I took care of the road book, so the duties were nicely split. We are still enjoying ourselves, so we just keep on going like this."
With the work on the car done, it was time for some hours of sleep. In Tom's case, that was done in Coronel style: "We decided to sleep where the journalists were sleeping. I saw an empty inflatable bed there, so I just took that one. This morning, I woke up because the bed suddenly was completely deflated! There was somebody standing behind me who had pulled the plug to release the air. It turned out to be his bed and he wanted to leave. Dakar, it remains unique," Tom said with a laugh.