Buenos Aires, January 1st 2016 – After a short night, the Maxxis Dakar team was ready for the last obstacle before the start of Dakar 2016: scrutineering. At 8 am it was time for the last administrative checks and both buggies were examined by the scrutineering officials.All the team members got the needed stamps and both of the buggies were approved. After scrutineering the cars were sent to the parc ferme, where they will stay until the podium ceremony. The team can relax one last day before the party starts tomorrow.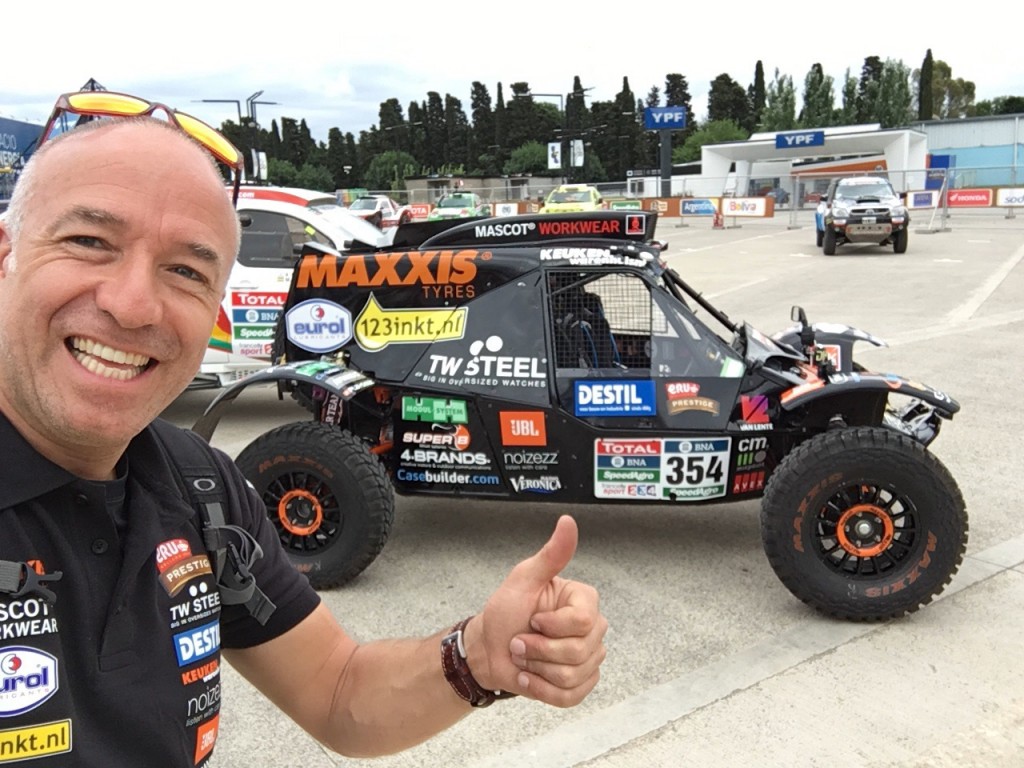 After arrival in Buenos Aires the buggies were picked up at the harbour and the first bivouac was built up. During the ride to the bivouac Tom felt there was something wrong with his buggy and the mechanics investigated the problem. They found a problem with the clutch, which is replaced out of precaution. Tim's buggy was thoroughly checked as well, but luckily they forund no other problems. The navigation hardware and sentinel were installed and the buggies were ready for scrutineering.
Tim Coronel explains that scrutineering is quite boring actually: "The buggies were thoroughly checked in the Netherlands and here they're just doing the final checks. It's mostly for the administration and to get the needed stamps. At the end we have a book full of them and then we get the important sticker for the buggies. We were well prepared so it was just a formality, but we're happy as always to receive the stickers so we can start tomorrow."
Tom is also happy that scrutineering is done and is looking forward to the start and the podium ceremony on Saturday. "It's always a good feeling when everything's right and done. We had a small problem with the clutch, but fortunately I noticed that during the ride to the bivouac. The mechanics replaced it and it runs like a charm. The buggies are in parc ferme now, so today we're going to explore the city a bit and prepare for the coming two weeks. Tomorrow it's time for the podium ceremony and after that we can have some fun during the prologue and then on Sunday it's time for the real thing. We are ready!"
Tomorrow
On Saturday, January 2nd, the team will get ready for the podium ceremony. Thousands of fans will cheer for all the participants in the streets of Buenos Aires. After that it's time for the prologue: a short stage where you can win nothing, but loose everything.The prologue determines the starting order for the first real stage on Sunday.