SAN JUAN DE MARCONA – The Coronel brothers had a turbulent start of the second Dakar week.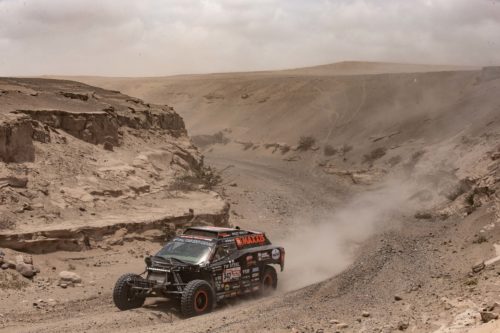 After the rest day, the duo was full of renewed energy to take on the second week of the world's hardest test for man and machine. However, things already went wrong prior to the start of the stage. On the way to the start, the rear brake line caught fire. Initially, the twins didn't notice it but a driver behind them warned them in time. Quick action allowed for the problem to be solved.
Once they had started, things soon went massively wrong in the large dunes. On the first few kilometres, several competitors already hit trouble and Tim and Tom were no exception. Within 20 kilometres, the duo ran into a huge gap. "That was a heavy impact in which the suspension collapsed," Tim explained. "There was no way for us to continue, so it had to be repaired on site. We waited for the Boucou service crew to solve the problem. After many hours of work, we were able to continue." In the neutralisation of the stage, the Coronel service crew was waiting to carry out additional work on the car. "We worked until two at night," Tim continued. "Then, we went on to make it into the bivouac on time. We briefly tried to make it through the dunes in the dark, but that was impossible, so we took a few hours of sleep. At 5 am, daylight came already so we could continue. Once we had made it into the bivouac, we headed straight to the start of stage 7."
A trouble-free seventh stage
Monday's stage was a trouble-free affair: "We have had a good stage, things were going really well," Tom looked back. "No issues with the car, just one tyre that lost pressure because the deflation system didn't work, so we had to change that. This was one of those stages on which we really enjoyed ourselves. Tim drove so nicely through the dunes, it was a pleasure to be sitting alongside him. I did have to tell him once to back off: with 25 kilometres remaining, he probably thought that it was a sprint race and it seemed like he wanted to set a new world record. Well, he certainly did!"
Tim added: "Sheer joy. We were really enjoying ourselves. We got stuck once, but fortunately, we didn't have to dig. Everything that went wrong one day earlier went well now. Sometimes, you just need days like this in the Dakar Rally."
On Tuesday, the convoy heads San Juan de Marcona to Pisco: a route of 576 kilometres including 361 special stage kilometres.